Residential Electrician Canberra
At Climate Plus we specialise in domestic electrical service, advice and repair. This means our team of qualified, licensed and experienced electricians are focussed on the electrical solution for your home.
Why use our electrical team?
Unlike some electrical companies in Canberra, Climate Plus is locally owned and operated. When you deal with Climate Plus we have a team of local electricians that know Canberra and know Canberra properties, meaning we can get someone out to your home quickly and have the issue or upgrade sorted quickly!
If you're after an electrician in Canberra give Climate Plus a call or book your electrician online
Switchboard Upgrades & Replacements
Have you ever taken a look at your electrical switchboard? With 40% of house fires cause by electrical fires and fault, now might be the time to have us take a look.
Many older homes in Canberra have original switchboards that can pose a higher risk of an electrical fire occurring. Older switchboards also increase the risk of electrical shock. Switchboards installed in new homes have electrical safety switches installed which are now mandatory and should be retrofitted on older homes to ensure the safety of your family.
Do I need to upgrade my switchboard?
Firstly – send a photo of your switchboard to the team at Climate Plus, we can advise on whether your switchboard has safety switches in place and whether you might need to consider upgrading your switchboard.
If your home has an older style switchboard with ceramic fuses then upgrading should be a priority. These switchboards are prone to overloading, posing a possible fire hazard and have no safety switches on power circuits.
Installing a new appliance? If you're installing a new, hard wired appliance it must be installed on a safety switch, meaning you may need to upgrade your switchboard.
Extending or renovating? You need to make sure you don't overload your existing switchboard, make sure you invest in having your switchboard up-to-date.
Be sure to give Climate Plus a call for any switchboard upgrades in Canberra, we can provide service and advice around what is the best solution for your home.
Safety switch testing
Did you know that according to the ACT Government electrical fires and faults cause 40% of house fires?
Climate Plus' team of electricians can carry out professional testing of your homes safety switches, ensuring the switches are all working fast in the case of an electrical emergency.
Why test safety switches?
Safety switches should be tested regularly in order to ensure the switch works freely. With time, the switch can become clogged with debris, dust, cobwebs and moisture. This can cause the switch to slow or cease working. We recommend an annual check of your electrical safety switches and recommend a full test upon moving into any new property.
Do I need safety switches?
We recommend safety switches on all electrical switches. It is now legislated that every new home built has safety switches, so upgrading your old electrical switchboard will bring your home up to speed. Safety switches protect your family from electrical incidents, if you have an old, outdates switchboard you and your family may not be safe if an electrical fault occurs.
Book a safety switch check today
Book your safety switch check online today using our easy online booking tool, or give us a call on 6185 5151.
LED light upgrades
LED lighting is without doubt the most energy-efficient lighting solution for your home. Upgrading your lights to LEDs is a great way to decrease your electricity usage, do your bit for the environment and move your home one step closer to being a green home!
With electricity prices increasing and roof-top solar becoming a more popular option, many Canberrans are moving their lights to LED to keep their power usage to a minimum. LED downlight upgrades are very commonplace in Canberra, with thousands of old-style halogen lights installed before the evolution of LEDs. Don't miss the opportunity to save energy and decrease your bills.
Different types of LED lights to choose from
Not only are LED lights energy and cost-efficient, but they can also change the mood of the room — depending on the lights you choose to install. For homes, we recommend installing LED bulbs with a soft, warm light. While in office spaces, a neutral white bulb will create an atmosphere of focus and concentration. 
No matter the LED bulb type, colour or brand you choose for each specific room, the team at Climate Plus offers installation and electrical repair services to keep your home or office looking its best. Call us today or book an electrician online to arrange a quote for LED lighting for your home.
Ceiling fans
Climate Plus can supply and install a range of high-quality ceiling fans, or you can supply your own ceiling fan and we can install it for you in your desired location. We can source a range of ceiling fans at wholesale costs, so be sure to get in touch before buying your new ceiling fan.
The benefits of installing ceiling fans in your home or office
Ceiling fans are an effective cooling option for keeping you, your family or employees comfortable all year round. Compared to split system air conditioners or ducted reverse cooling systems, ceiling fans are more cost-effective, too. 
If you're looking to install a new fan or have an existing one replaced, our team performs some of the top electrical services in Australia. And for those who have a faulty fan or are experiencing problems with their current system, we also offer electrical repairs in Canberra — and will have your ceiling fan running properly again in no time. 
To find out more about our range of ceiling fans and services, be sure to give us a call at your earliest convenience.
Powerpoints and USB outlets
If you are looking for powerpoint installation in Canberra, then look no further. At Climate Plus we can relocate a powerpoint, install new power points or upgrade your old power points to new, modern double power points with USB outlets.
A range of power points to suit your requirements
Offering a range of complete electrical services in Canberra, you can count on our team for some of the best quality products and services around. Whether you need weatherproof external power points for your outdoor entertaining area or a convenient indoor station for charging all your devices, we will supply and install just what you need. 
The benefits of having power points and USB outlets installed
With so many of us now working from home, the need for accessible power and USB points for our portable devices is more important than ever. With our powerpoint and USB electrical services in Australia, you can easily connect your devices to a charger where you need them the most. 
To find out more about our products and services, please be sure to give us a call today.
Smoke alarms
Smoke alarms are one of the most important safety devices in your home. They're proven to reduce the risk of death in a house fire by over 50%. but to do this, they need to be correctly installed, working and checked regularly.
As part of our long list of electric services and repairs, Climate Plus offers smoke alarm installation, testing and maintenance to ensure the safety of you and your family.
Interconnected and hardwired
ACT Fire & Rescue recommends that where possible hardwired (with battery backup) and interconnected smoke alarms be installed. If your home has more than one storey, smoke alarms should also be installed on every level of your home.
As illustrated by the image below, interconnected smoke alarms mean that if there is a fire in one part of your house, all your smoke alarms will go off simultaneously. When you really think about it, an interconnected smoke alarm system is a must-have to protect you and your family in the event of a fire.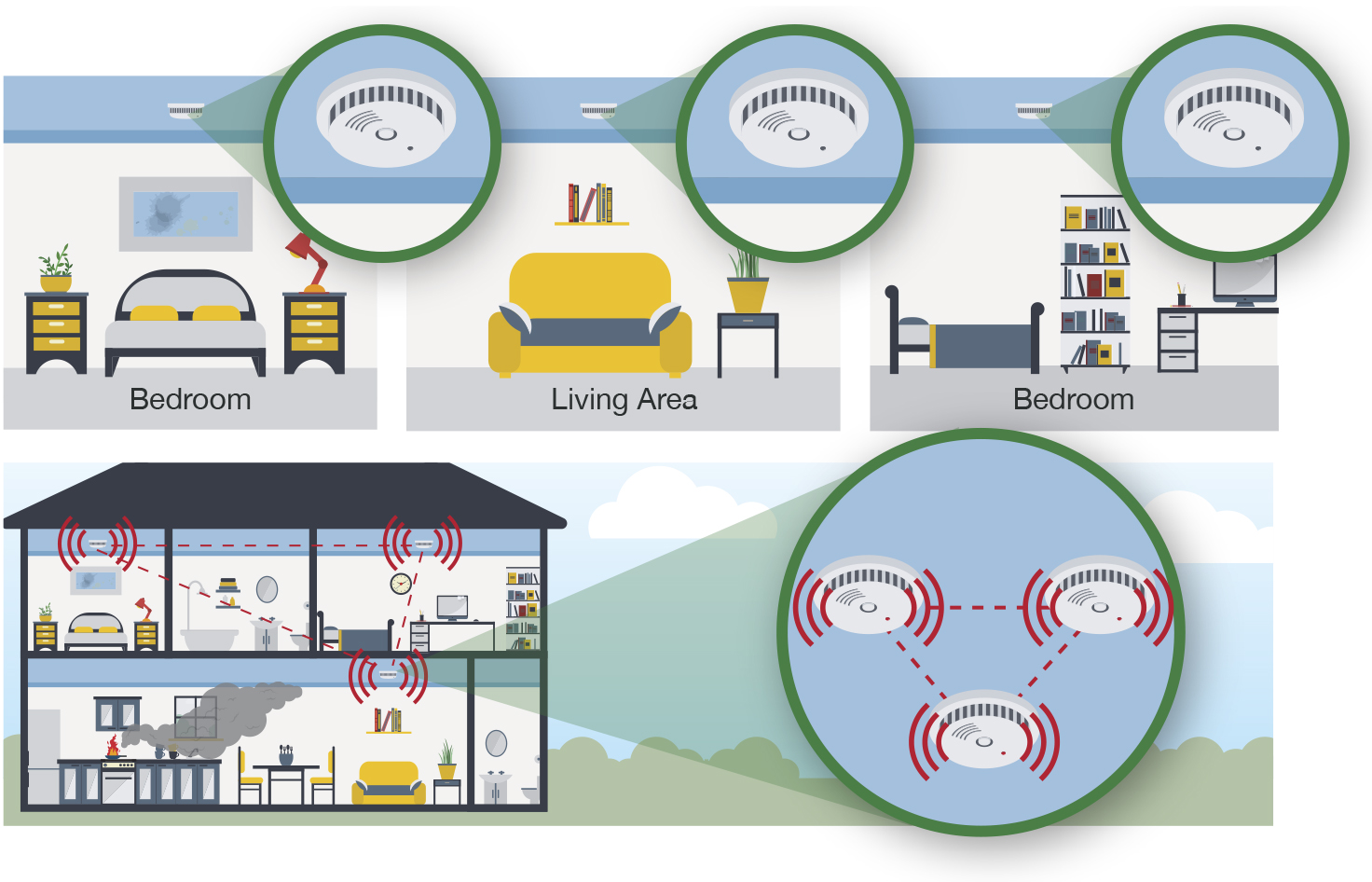 Safety should be a priority in your home, at Climate Plus we can supply and install an interconnected smoke alarm system to put your mind at ease.
Battery smoke alarms
If hardwired alarms aren't an option in your home, then we can supply and install high quality battery smoke alarms in your home. Get in touch and we can quote for an option that suits you, your budget and your home.
The team to call for electrical repair services in Canberra
From heating and cooling to solar services, hot water services and so much more, Climate Plus is here to help with all sorts of electrical services in Canberra. No matter your unique home or office requirements, you can be sure of exceptional service and high-quality work from the professionals at Climate Plus. For a quote, more information about our services or to make an appointment, please get in touch with us today.
We specialise in all things electrical!
Switchboard Upgrades and Replacements
Safety switch testing
Lighting upgrades
Ceiling Fans
PowerPoints, Safety Switches and USB outlets
Smoke Alarms
TV & Data Points
This isn't everything we do, if you're after something else give us a call on 6185 5151 and we can book in one of the team.